Tibetan Buddhist Main Sect-Gelug-Yellow Sect
Originating in 1409, the Gelug Sect, the latest sect of Tibetan Buddhism, is formed during the process of the Reformation held by Zhong Kaba, a famous reformer in the history of Tibetan Buddhism in the 15th century. He was born in the age when the Pazhu Gagyu took the place of the Sagya Sect. At that time, monks of the top class not only participated in the struggle for political and economic power, but also lived an increasingly corrupt life, gradually losing support of people in society. In view of this situation, Zhong Kaba preached and spread the tenets around, calling on people to value the religious disciplines; wrote books to explain his religious theory, assailing the monks who broke the religious disciplines, pushing on the Buddhist Reformation in Tibet. In the first month of the Tibetan calendar in 1409, he held the Great Religious Meeting for Wishing at the Jokhang Temple in Lhasa, it was the Great Religious Meeting handed down to us today. After that, Zhong Kaba built the famous Gandain Monastery and set up a highly disciplined sect, Gelug (means being good at disciplining). Since Zhong Kaba and his followers all wore yellow hats, it is also known as the Yellow Sect. Later, Zhaibung, Sera, Tashihungpo, Tar and Labrang monasteries were built in succession and, together with the Gandain Monastery, they were called the top six monasteries of the Gelug sect. Besides, they also founded the two greatest Living Buddha Reincarnation systems --Dalai and Panchen Lamas.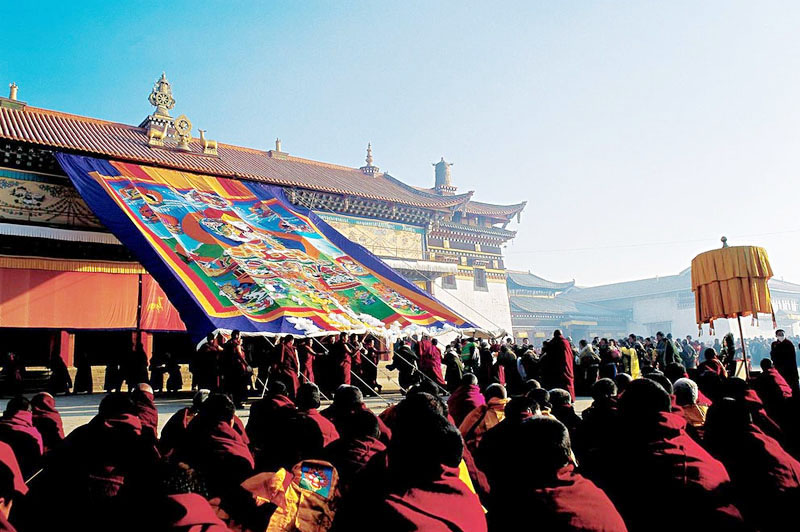 Unwrap the Experience with the
Tibet dream footprint,Snowy paradise,Sacred to the extreme
Travel Tibet China(traveltibetchina.com) provides a platform for those tourists who want to visit Tibet in groups,which helps them solve the problem of being unable to group together with others. Grouping travel countries include America、England、Germany etc.The dream of visiting Tibet will come true for you if you have it,Travel Tibet China!
Tibet tourism is a "go on" trip!
Tibet tourism brand with high quality, Traveltibetchina.com take you to tour around in Tibet
Get free travel information!